Maybe it is too premature. Then again, why purchase a physical storefront where only thousands of people can visit if you can instead purchase a virtual land where millions of people can interact and visit on a daily basis?
"Top virtual real estate sellers including metaverse project Decentraland has accrued more than $55 million in sales and, over the past week, claimed two of the top five NFT sales worth $412,000 and $280,000. The Sandbox, another top virtual gaming NFT, has recorded more than $19 million in sales. Decentraland has about 90,000 global plots." – Angelica Stabile (FOX Business)
Two emerging approaches exist – tokenized real estate and virtual real estate – both of which rely on blockchain technology and both of which could satisfy the desire for stable securities ownership while simultaneously being virtual.
Tokenized real estate
Tokenized real estate is similar to NFT-based virtual ownership within that it grants ownership of space. The distinction is that tokenization is actually linked to tangible assets – physical real estate such as residential buildings or plots of land. The tokenization process is about dividing these seemingly indivisible assets up into virtual shares, called security tokens. The shares are secured through the blockchain and therefore become tradeable. The underlying approach is akin to the stock market – the only difference being that crypto enthusiasts can invest in parts of a building rather than parts of a company.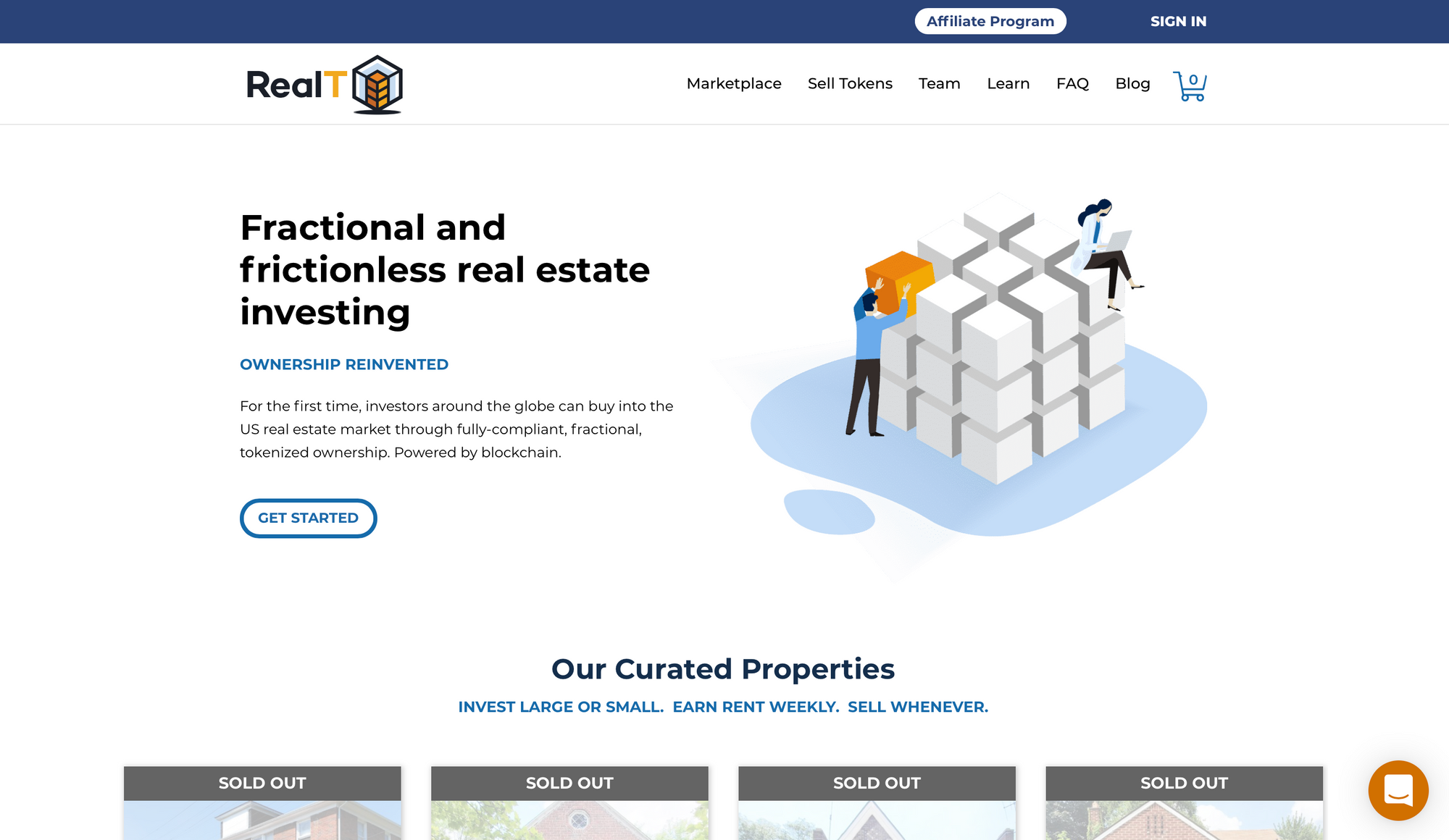 RealT
RealT is a relatively nascent platform designed to simplify global access to United States real estate investments. The platform, based on the Ethereum blockchain, empowers investors around the world to buy into the ownership of United States real estate and generate passive rental income with a compliant and user-friendly platform. The ownership of each property is transferred in the form of ERC-20 tokens. On the basis of token share, the owners collect rental income and vote on property decisions like maintenance and leasing. Starting at $60 per token, people from all income levels can participate in investing in an asset class that was previously only available to the wealthy.
The average price of a home in the United States is about US$ 200,000, with the typical 30-year mortgage with an APR of 4.5% (at US$ 200,000) costing US$ 365,000 after interest. In order for potential investors to earn a high rate of return, the high interest cost of mortgage-based real estate investments limits the return on the investment.
As is well known, another option for prospective real estate investors is REITs. But a REIT offers no direct ownership of a property and minimal exposure to rental income.
The second inherent inefficiency in the real estate markets are the high transaction costs. Even if the average broker commission slid to 4.94 percent in 2020 from 4.96 percent in 2019 and 5.03 percent in 2018 when selling a home in the United States. Settlement of funds takes at least 30 days. In addition, each exchange requires intensive documentation, disclosures, insurance policies, and deed transfers. All of these steps contribute to the high transaction costs and increase the friction associated with selling a property.
Currently, however, the model only works in the United States. But tokens could be purchased by investors from any country in the world, Jacobson says. "However, withholding tax can be an issue. If there is no double taxation law agreement with a country, the rate is 30 percent."
Furtner information: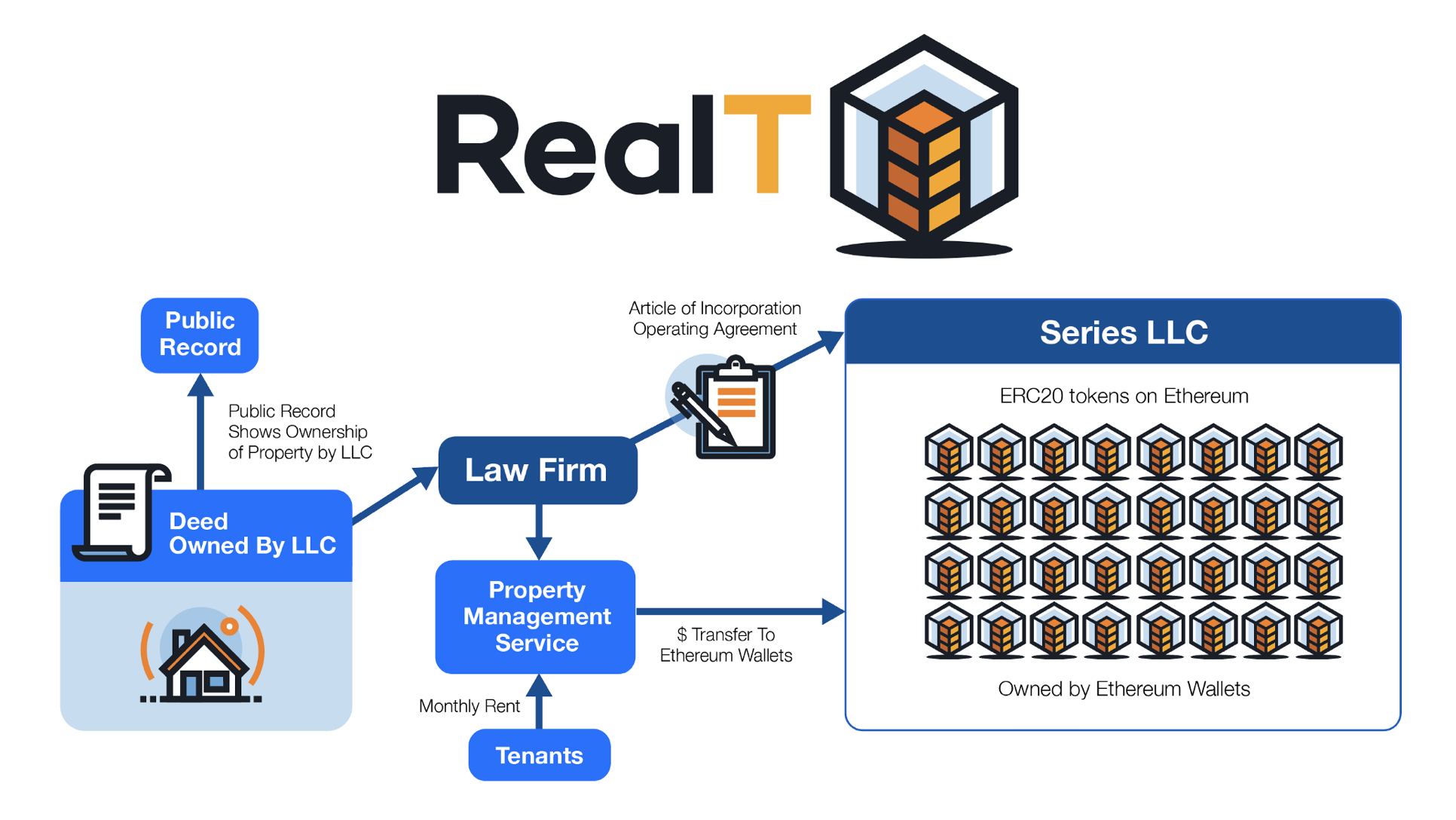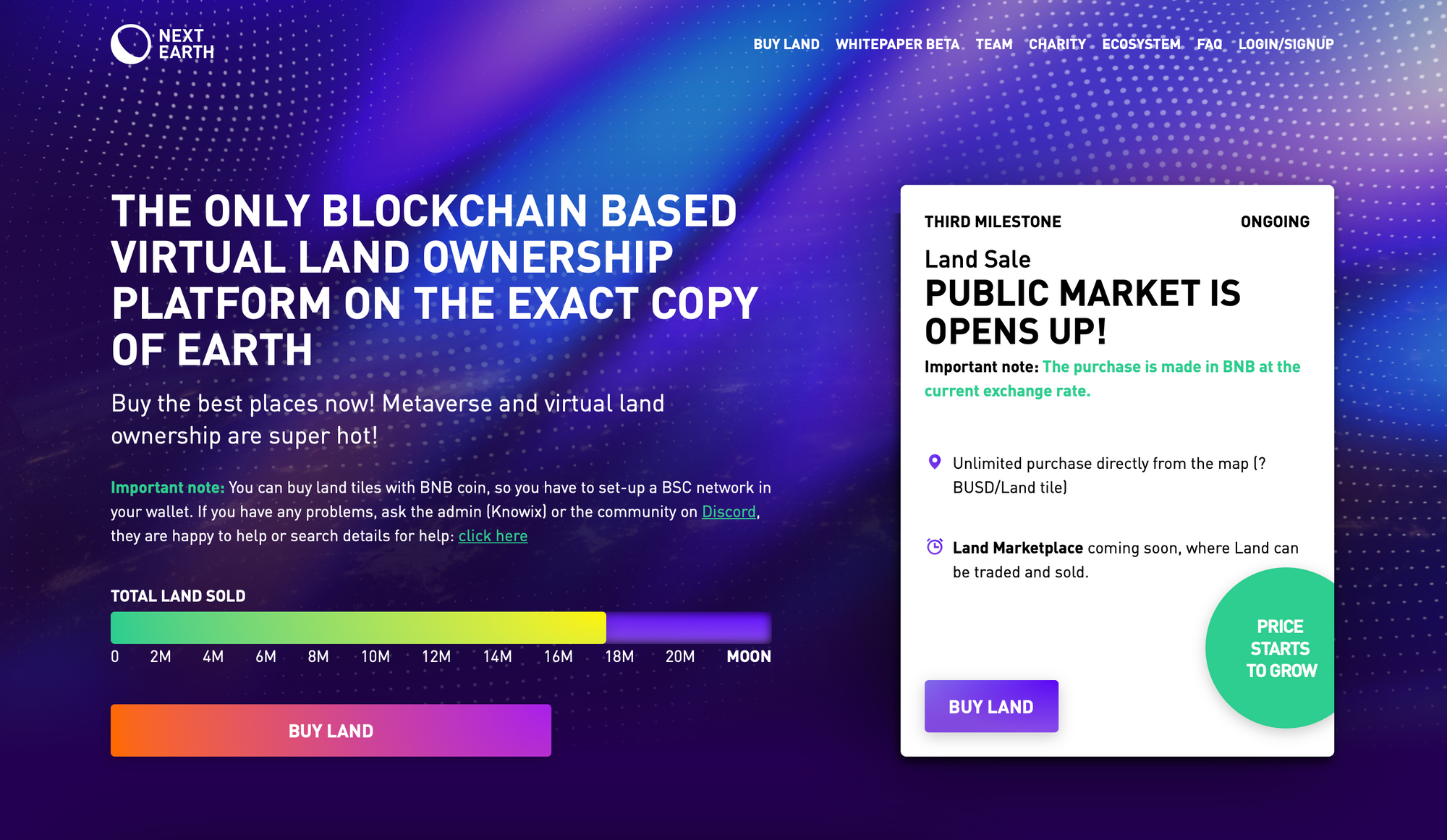 Next Earth
The very first wave of Blockchain fundraising was the 2017 ICO (Initial Coin Offering) and then its collapse. It was followed by the second wave IEOs (Initial Exchange Offering). The third wave from STOs (Security Token Offerings). And the fourth wave were IDOs (Initial Decentralized Exchange Offering), which is similar to an IEO, but conducted on a decentralized exchange like UniSwap or ApeSwap. Now what exactly is that fifth wave?
This very fifth wave is a so-called ITO (Initial Tile Offering), where a metaverse uses a blockchain to sell virtual real estate parcels, whereby NFTs represent property rights in such parcels. At the forefront of the ITO is a new major metaverse project called Next Earth.
Next Earth launched virtual earth tiles for sale as element of the inaugural ITO where participants can directly buy land with BNB. These are now holding verifiably rare, unique virtual plots of land on a virtual replica of the Earth. Henceforth, virtually anyone can buy each of these land tiles.
Said landowners will also govern the Next Earth metaverse. Upon the release of the Next Earth token, land owners will also be able to stake their tokens tied to the tiles. In tandem to this, the pixel-based NFT Land Art will be rolled out on the blockchain.
"From the beginning, Next Earth will be contributing to environmental charity. When the development of the platform moves towards its later stages, these allocations can turn fully toward environmental charity, in a fully-automated and self-sustaining process." – Next Earth Whitepaper
In addition, it is also important to indicate that the majority of similar offers initially suffer from a trust problem. For instance, Earth2 is a very centralized project, nobody is able to see the genuine underlying, any data can be false, and there is nothing that can be done if one runs off taking the money.
Next Earth is a decentralized operation, each and every transaction and piece of information will be written to the blockchain, allowing anyone to be able to audit anything they like in real-time. While there will be no chance to provide incorrect data, since everything will be processed through smart contracts.
Virtual real estate
Historical perspective
In fact, selling virtual real estate is not new. As an example, in 2010, Jon Jacobs (yes, the same as Jon "NEVERDIE" Jacobs), an Entropia Universe resident, achieved a record $335,000 in one single sale. Jacobs managed to sell his property on a fictitious asteroid to John Foma Kalun (also read this awesome interview), known as "pesok" in the massively multiplayer online game (MMO).
However, this sale was rather about "The Virtual Asteroid Soon To Be Formerly Known As Club NEVERDIE", a virtual club.
Jacobs has not been the first person who has made a modest fortune selling virtual real estate, and he has not made the most either. Another MMO, Second Life, has seen Ailin Gräf become a bona fide millionaire as a result of her business in the virtual world. Gräf, known online as Anshe Chung, purchased and developed virtual real estate just like developers and investors do in the meatspace (real world). According to reports, she took home US$ 150,000 each year for her efforts.
While Chung says she had already created a fortune in purely virtual currency in other MMOs such as Asheron's Call and Shadowbane, she had nevertheless not converted it into real money. The situation changed when she entered Second Life, where the in-game currency "Linden Dollars" (L$) could be officially exchanged for real money
Clearly, since 2018, virtual real estate has evolved in tandem with the development of non-fungible tokens (NFTs). Those can refer to both the associated property certificate and the associated Blockchain based virtual asset. Among these assets is virtual land, some of which is sold for millions of dollars across platforms such as Decentraland or Cryptovoxels.
The Mars House
The Mars House was designed by visual artist Krista Kim in May 2020 and is the world's first NFT digital house sold for roughly US$ 515,460 on SuperRare. The 3D digital file can be experienced in virtual reality and was rendered on the Unreal Engine, although it can also be experienced through an augmented reality (AR) environment in apps. Kim says the structure, which is made of light, creates a healing atmosphere alongside music created by Jeff Schroeder of The Smashing Pumpkins.
"As a Techism artist, I challenge the power of NFT as an art medium. Mars House will live forever as an NFT, so it is meant to represent an art movement for humanity through the power of digital technology. It is to remind future generations that we are here to create a new and better world at a crucial time in history. [...] We are ready to change the world" - Krista Kim (Instagram)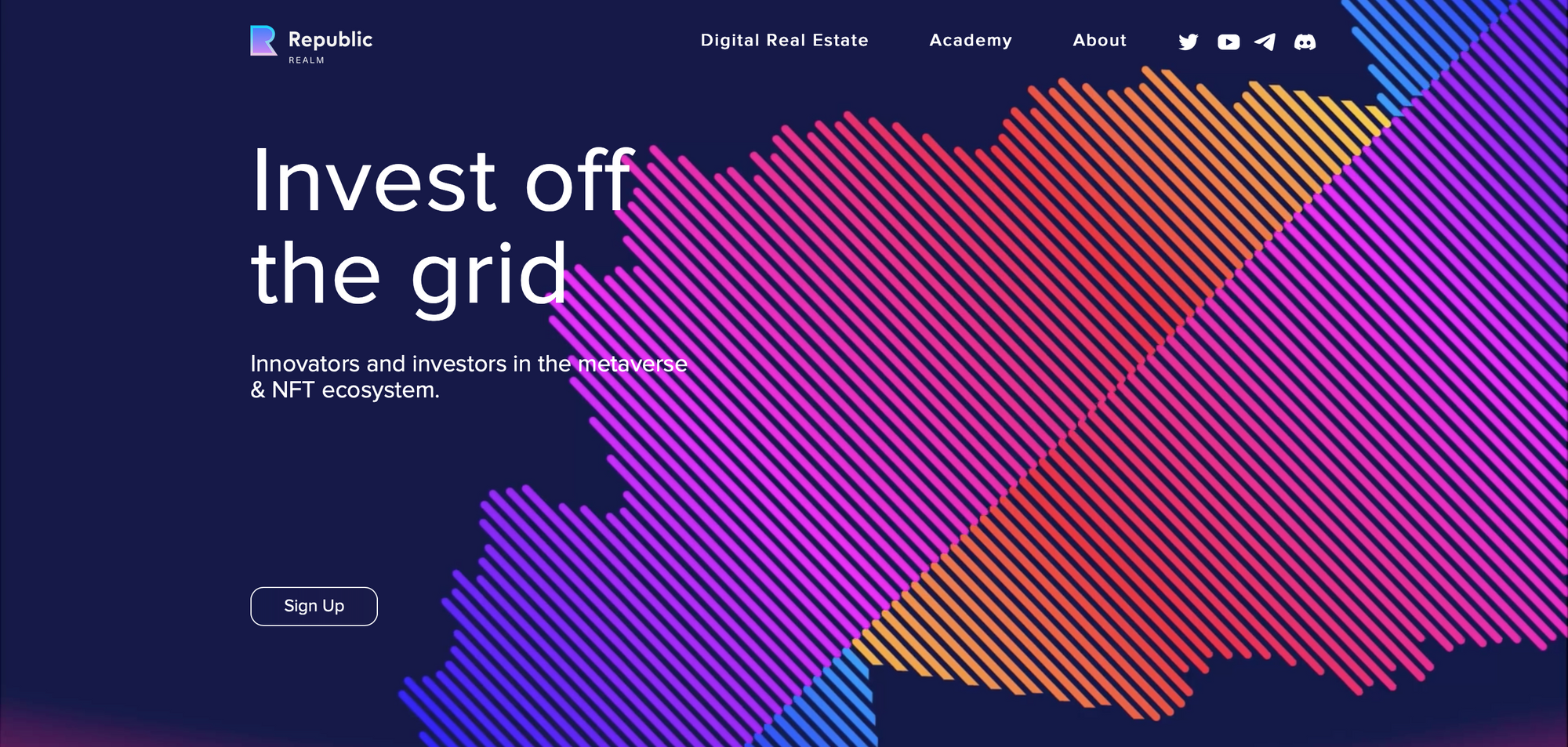 Republic Realm
Specifically, with teams like Republic Realm's embarking on investing capital in on-chain Metaverse land - demonstrably scarce, publicly exposed assets potentially bringing in revenue streams from online gamers worldwide - it appears that the next step in this trickle-up economy is to attempt to get more assets invested in virtual lands.
Republic Realm predominantly buys virtual real estate, which is either crypto-assets or non-fungible tokens (NFTs) whose ownership state and authenticity is verified by the blockchain. Founded in March 2021, United States-based Republic Realm has accumulated in excess of 1,500 investments and in June 2021 purchased a virtual property in the Blockchain-based online world Decentraland for US$ 900,000.
The corporation plans for a virtual shopping realm called "Metajuku". The realm is inspired by the Harajuku (原宿) district in Tokyo, which is renowned for its street fashion. Covering 16,000 square meters, the virtual district will have two main commercial tenants that will exclusively sell digital items: DressX and Tribute Brand.
Republic Realm is presently invested in Decentraland, The Sandbox, Cryptovoxels, Somnium Space, Axie Infinity, and Star Atlas, while allocating capital funding towards emerging projects and opportunities as they emerge.
Recently, Galaxy Interactive joined the venture as a major Series-A investor. Interactive is part of the venture capital arm of billionaire crypto investor Mike Novogratz's Galaxy Digital Holdings (GLXY.TO). Novogratz was earlier a hedge fund manager at Fortress Investment Group and a partner at Goldman Sachs.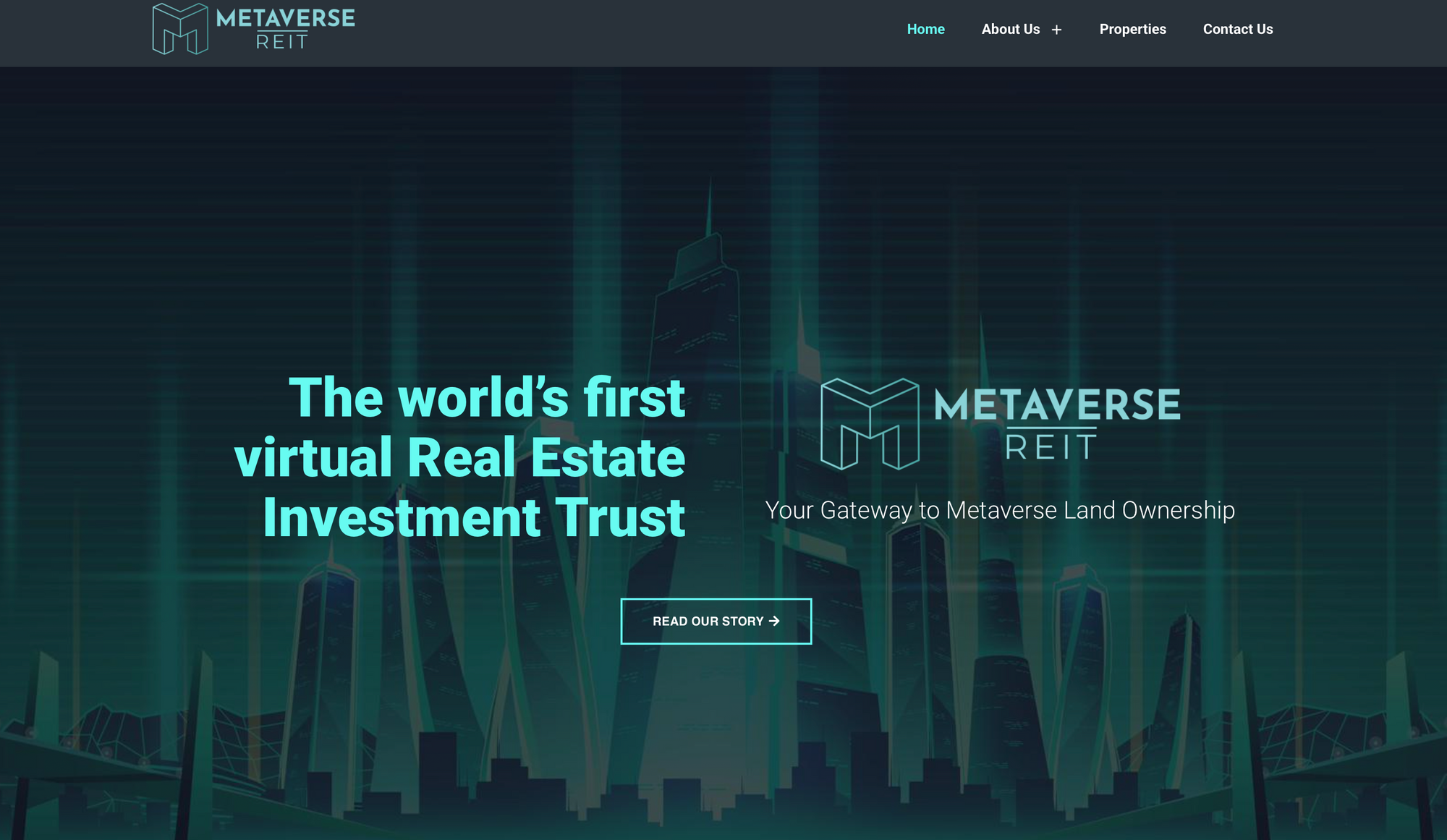 Metaverse REIT
On March 20, 2021, Metaverse Group, the holding company underlying Metaverse Property, announced its commitment to establish Metaverse Reit, the first real estate investment trust (REIT) focused entirely on Metaverse properties. Metaverse Reit intends to own and operate a portfolio of high-quality development properties in Decentraland, Somnium Space, Crypto Voxels, Sandbox, Upland and other commercially viable Metaverses. It is the intention of Metaverse Group that this will be the first 100% owned Metaverse Reit in the world.
The fund is envisioned to be managed in a manner similar to traditional REITs in the physical real estate market, however tailored to the more unique aspects of the virtual real estate sector, with one NFT token representing a percentage of the portfolio's assets under management (AUM).
The group at this point has a multi-million dollar portfolio of Metaverse NFT properties which it intends to contribute to the REIT and expects to provide returns to investors by increasing the value of the properties, deriving income from businesses built on the NFT properties, and ultimately intending to pay dividends. At the outset, the focus will be on pursuing prime properties and developing them in a variety of unique ways to build more reliable income streams. Over the coming years, they anticipate that as the Metaverse sector grows, so will the REIT.
Final Thoughts
Up to this point, security came from the convenience of owning a "thing" that you can do "something" with, and that feels like a stable investment in a world where change happens at an unpredictable pace. For now, only virtual real estate might be more volatile. While mainstream assumes that shares in tokenization are intangible, the connection to something tangible like a building, in conjunction with entry costs that are not at all alarming, simplifies a frictionless transition from traditional to virtual ownership.
Security includes trusting a legal framework and recognized authorities. Security tokens – the technology behind tokenization – are commonly already regulated or approaching regulation by local authorities. In 2019, the parliament of Lichtenstein passed a law (German version | English translation (not official)) allowing all kinds of assets, including real estate, bonds, and securities, to be tokenized, digitized, and listed on cryptocurrency exchanges.
At this stage, however, risk-averse investors may find higher returns with purely virtual real estate. With the ongoing hype around the metaverse and an enduring pandemic, we'll have to wait and see if new mainstream adaptations and the growth of the virtual economy change this vision in the future.
Recommended articles and links
---
The website and the information contained therein are not intended to be a source of advice or credit analysis with respect to the material presented, and the information and/or documents contained on this website do not constitute investment advice.