Interestingly, the COVID-19 crisis raised consumer awareness of the importance of health and wellness. According to a study by McKinsey, 68 percent of survey respondents reported placing more importance on their health following the outbreak of the pandemic. Exercise is also the most commonly cited means of stress relief, with 65 percent of gym-goers surveyed saying they use exercise to relieve stress. The percentage of consumers who said they use mobile apps to achieve their health and fitness goals increased accordingly, from about 50 percent before the COVID 19 outbreak to 75 percent in June 2020.
Trainer-led Fitness
Trainer-led fitness may not have just emerged from gyms or the triathlon scene. Apps like TrainingPeaks have offered the convenience of professional training plans for some time, but "true custom" solutions that are highly flexible and/or competitively priced may be lacking. Obviously, there is a lot of motion in this space, and in an incredible variety from, for example, TrainerRoad to Tempo to Future.
Tempo
Tempo is a home fitness platform that blends equipment, training-led fitness, and social motivation with 3D sensors and artificial intelligence. The company was founded back in 2015 by Joshua Augustin and Moawia Eldeeb (make sure to also read this very inspiring background story) and received a Series C round of funding totaling US$ 298.8 million in April 2021. At this point, the company has developed two core products: Tempo Studio and, more recently, Tempo Move.
Tempo Studio
Tempo Studio is designed to be similar to a personal trainer for strength training. It is a hardware device featuring a 42-inch screen that uses a 3D sensor to track movements, correct form, track progress, and recommend weights as well as target repetitions in real-time.
The all-in-one system features a variety of workouts, focusing on different workouts depending on whether the user is looking for strength, cardio, yoga, or other training (membership is required). The entry-level package includes an exercise mat, two 7.5-liter dumbbells, four cuffs, and 75-pound weight plates. Upgrades are also available Plus or Pro, which include additional equipment including a heart rate monitor as well as a folding bench.
Tempo Move
Tempo also offers a scaled-down version called Tempo Move, which leverages a TV and iPhone camera, plus a device called Tempo Core, to provide similar 3D scans supported by the phone's True Depth camera system (with LiDAR support possibly in the future) to provide feedback during workouts. The package also includes a cabinet with dumbbells and smart weight plates.
Given that it is already an extremely competitive market, I share quickly a few more companies for your own endeavors: MIRROR (owned by lululemon), Tonal, Forme Life, Vitruvian, Arena, Fight Camp, Boxx, JaxJox, CLMBR
Future
After Tempo, I would like to take a different approach, one that is more personal.
Future connects users one-on-one with a personal trainer who designs a workout based on the user's fitness level, goals, equipment, and various other factors. At any time, the user is able to message her/his trainer, however, there are no live video sessions ( other than an initial FaceTime call to talk over goals and strategies).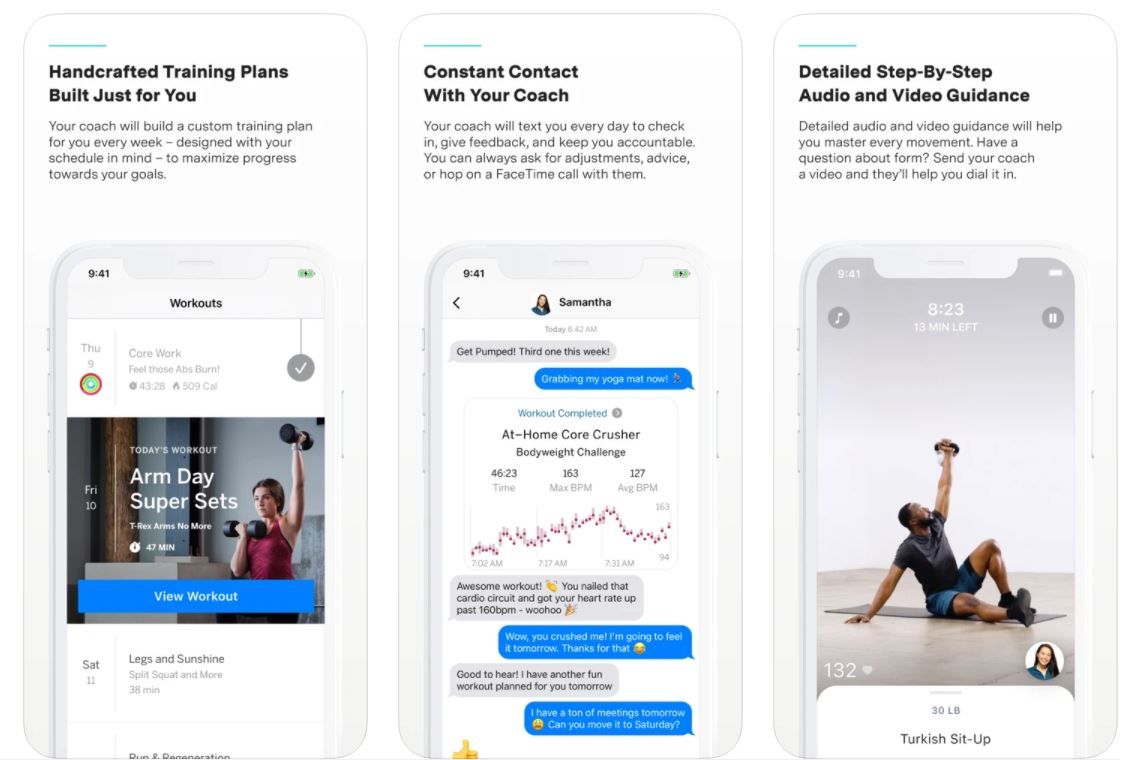 Future operates solely on an Apple Watch, and if an Apple Watch is not available to them, they will send one to users in exchange for a $199 deposit, which is refunded when the user exits the program. If they choose to keep the watch, however, they are charged the difference between the deposit and the cost Future paid to actually purchase the watch. Also, this implies that the app only works effectively with iPhones. For the moment, Future is, unfortunately, unavailable for Android operating systems. Due to the integration with the Apple Watch and iPhone, its tracking is seamless and intuitive. The user interface is straightforward, uncluttered, and pleasant to engage with. And it feels like a high-end experience.
Future is high priced with a membership of US$ 150 a month. Although, it is certainly less expensive than engaging a personal trainer. Future offers a 30-day risk-free trial period. Once the user determines that Future may not be right for them, they can cancel with ease and without any fees or penalties. In addition, the user can change trainers at any time if they need a different training style to be successful.
Similar to Tempo, there are other major suppliers that are in direct competition, namely Street Parking, Juggernaut.AI, NCFIT App, bande, obé.
Game-based
Despite the fact that trainer-led fitness classes are popular, that doesn't mean they are for everyone. Obviously, from a strategic standpoint, each fitness brand or instructor targets different demographics, but taking away a trainer's motivational drive, regardless of how charismatic they are, sometimes isn't the right thing in the first place. In fact, these people - the individuals who do not live for fitness classes - are the ones who are being left behind by the fitness industry.
Game design is not gamification. It is not simply taking your product and adding points, levels, trophies, and badges… To create games, we have to draw upon the art and science of psychology, mathematics, interaction design, and storytelling.
— Rahul Vohra, CEO of Superhuman (cf. Game Design, Not Gamification, for Great Products by a16z)
Competing within a game has an entirely different experience than taking a course. By combining goal-oriented patterns along with real-time feedback, there is a sense of accountability and accomplishment that is extremely tough to find from a course. Real, lasting habits are established by a broader sense of accomplishment and progress, reinforced through friendly competition. Game-based learning has the potential to be more effective than the instruction-based approaches.
This became evident also when Peloton introduced the in-app video game for Peloton Bike and Peloton Bike+ owners called Peloton Lanebreak.
Connected fitness games are a growing trend, and metric gamification is commonly used in fitness apps. That said, fitness games have already been around for ages on consoles (e.g. Dance Dance Revolution, Nintendo Ring Fit Adventure, Just Dance, etc.) or currently in the metaverse (e.g. Supernatural which was acquired by Meta).
Ergatta
Naturally, the market is also seeing the emergence of other sports - for example, rowing. Ergatta competes in this space with Hydrow or Aviron, among others, in the Smart Rowing market. Much like Lanebreak, introduced significantly later by Peloton, Ergatta has found a way to make training feel more like a game. Users can complete interval workouts with unique challenges, compete against other community members or themselves to break previous records, or complete themed push programs that follow specific sequences (which require membership).
As the user achieves designated milestones and community targets, new programs can be unlocked, charitable donations can be facilitated, and more. Real-time feedback is recorded by the device to adapt to the fitness abilities of the user, and as the user improves over time, the workouts and targets become more difficult, so the user is steadily improving. Additionally, it should be briefly noted that new games and integrations are really being launched continuously, and the rower is very simple to store upright when not in use.
And speaking of the rower itself, I believe Ergatta made a very smart move in how they built the rower. In fact, even though you can buy the entire system on their website, the rower is actually a WaterRower and Ergatta worked with them to develop the smart hardware used by their system. This becomes even more apparent when you look at the upgrade package for existing WaterRowers (compatible with WaterRowers that have an S4 monitor, or even models that use SmartRow).
Why is this a smart move? Quite simply, they managed to deliver a product that is already available on the global market by leveraging WaterRower's distribution channels, although the product itself is not currently (March 2022) available outside of the United States. Plus, the cost of manufacturing a physical product in an already saturated market could be a disincentive and would ignore the fact of where they can truly distinguish their business. A game-based product category.
Again, interestingly, these are not limited to rowing. As you can see for example with TRIPP (an Oculus Quest Mindfulness experience), Quell, Liteboxer or PlayPulse.
Zwift
If there is one fitness company that emerged from gaming, it is Zwift. The company started with indoor cycling and has raised upwards of US$ 600 million in funding. The company has a valuation in the range of $1 billion to $10 billion (as of Sept. 16, 2020), according to PrivCo, and currently plans to launch its own smart bike (Zwift Ride & Zwift Wheel) and aims to make virtual racing an Olympic sport as it continues to build an expansive virtual world.
As with any previous chapter, there is a wide range of competitors. Whether more in the cycling space like Kinomap; or actually very close from a product standpoint but focused on rowing like EXR (which funnily enough could be linked to SmartRow in the future).
A glimpse into the future
Ultimately, all of the above models rely on either (sometimes) expensive hardware or subsidized hardware and (very expensive) subscription services.
So the billion-dollar question will be: HOW can this be turned around? Previously, I wrote about the ways in which you can earn a substantial income from games.
Paceline
Paceline is a fitness rewards startup and has raised a Series A round of close to $35 million. Tracking activity through wearables, Paceline also uses customer expense data, accessible from a linked credit card, to tailor rewards. The users who complete 150 minutes of physical activity each week will be rewarded. The Paceline card is issued by Evolve Bank & Trust and is powered by the banking-as-a-service platform Railsbank, which is trailblazing the way for embedded financial services around the world. Indeed, the company itself makes a pledge to never sell or share data with third parties. Users have full control over who they want to share their data with.
In addition, Cardholders who complete an activity series will receive an unlimited 3% cashback on purchases at eligible health and wellness merchants including Daily Harvest, Hyperice, and Alala as well as a total of 1% cashback on all other qualifying purchases. If cardholders do not reach their weekly streak, they will still receive unlimited 1.5% cashback on all transactions at health and wellness merchants and 0.5% on all other qualified purchases.
Another feature is that qualified health and wellness categories are eligible for cashback rewards, such as gym memberships, fitness classes, fitness apps, workout apparel, and running stores.
The startup was recently ranked among the top 10 most innovative wellness companies in 2022 (fourth) by FastCompany.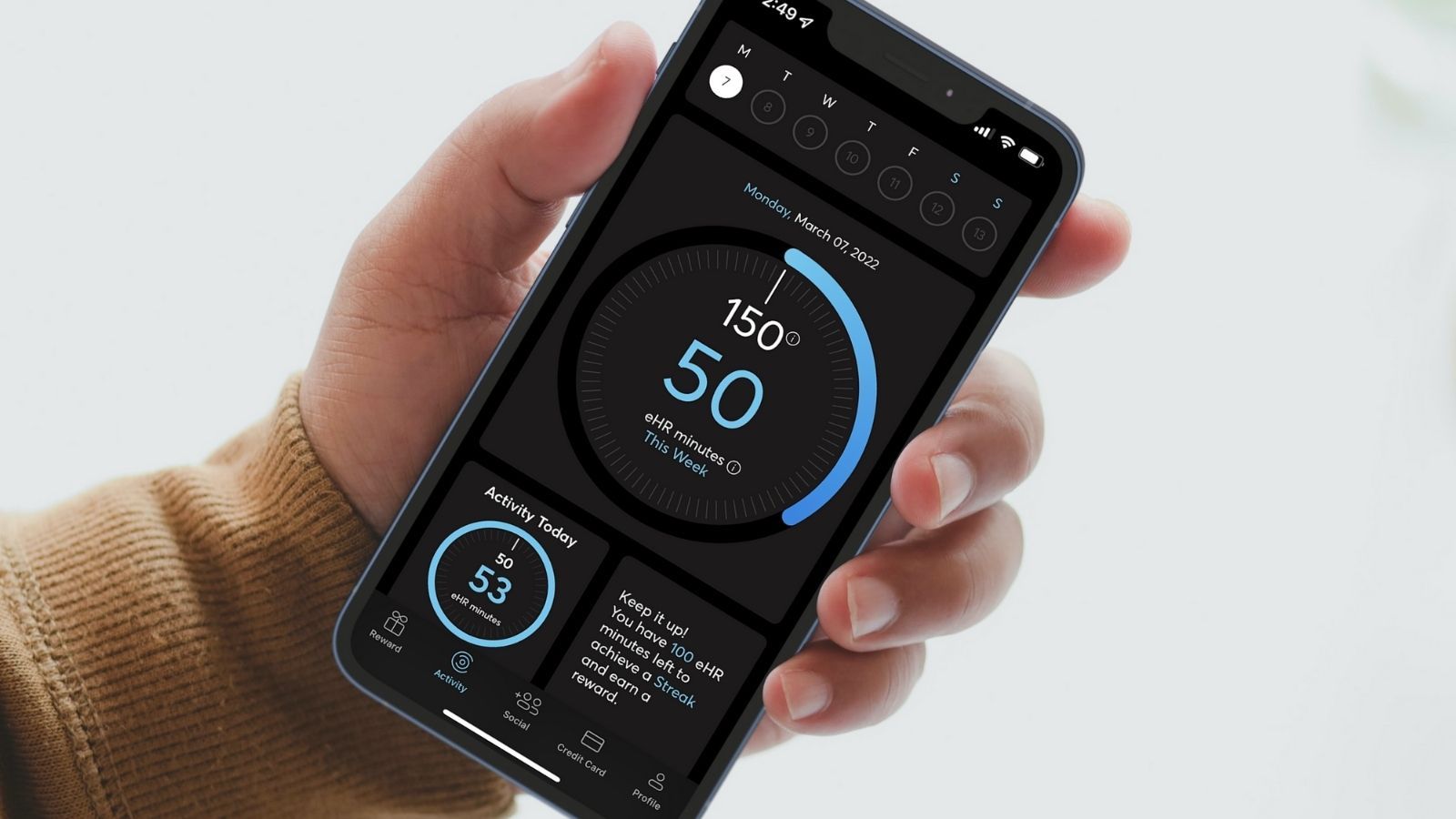 Over the years, there have been several attempts to monetize fitness and wellness exercises and efforts through token incentives.
Burn to Earn (B2E)
Calo Metaverse
Burn to earn surely defines an emerging Web3 trend. Its latest endeavors like Genopets, STEPN (backed by Sequoia Capital, Folius Ventures, Solana Capital, and other major web3 investors), 360 wellness, Calo Metaverse and OliveX allow players to earn crypto tokens and NFTs by exercising.
As a first mover in this area, Calo aims to create an ecosystem that combines cutting-edge technologies such as blockchain, AR, AI, and gamification through a health app called Calo App. With the "burn to earn" mechanism, calories burned can be converted into tokens or NFTs that are traded on the marketplace. This allows users to earn passive income through their sweat.
Passive income is the first priority. Indeed, the main function of the free app is to store the user's workout results and the calories consumed and convert them into reward tokens or NFTs with an equivalent value. These tokens are called Calo and Fat Tokens.
Secondly, the intention of using AR/VR and the Metaverse will create a more entertaining workout experience for its users. The Virtual World within the Calo Unverisum allows fitness enthusiasts to explore different workout locations around the globe, from impressive Paris to the hot Sahara desert.
In addition, the Calo app also provides tools such as virtual balls and virtual jump ropes to enhance the exercise experience from simple sports such as swimming, cycling, running and climbing to more advanced challenges.
The Calo app is not only a fitness app that adds value in terms of health, experience and income for users. It also builds on a virtual universe with many engaging possibilities through the gamification of NFTs. This will make users become a character in this magical world to workout, adventure and explore.
Move to Earn (M2E)
Maybe as a more natural evolution of play-to-earn paradigms, a recent phenomenon known as the fitness metaverse has emerged. This is essentially a blend of virtual reality gaming and physical activity.
The metaverse comes into play at such a point, as does the trend of playing games to earn. That is, through various tasks or physical activities, the user can earn cryptocurrencies and convert them into income.
Genopets
Genopets is a free-to-play, move-to-earn NFT mobile game on the Solana Blockchain. It rewards physical activity by converting step data into game functions.
Their whitepaper describes in broader terms their so-called Genoverse, and in detail, three different roles users can play to earn:
Trainer: Collectors can play Genopets with the goal of creating and upgrading the "coolest Genopet" to sell on the open market.
Traders: Traders can buy, create and terraform the "most mysterious habitats" to grow and refine rare and valuable crystals and trade regularly on the open market.
Landlord: Landlords can buy habitats to lease to other players to maintain a steady flow of resources.
Genesis Genopets can are currently listed on different marketplaces e.g. Fractal, Magic Edgen, FTX.us, or Solanart.
The game elements of Genoverse include various types of tokens and point systems, including:
$GENE token: A fungible governance and staking token that represents ownership of Genoverse. $GENE token holders vote on the future of the game and can use their $GENE tokens to earn rewards.
$KI Token: An in-game fungible reward token earned by players who have purchased a habitat, $KI is used to speed up Genopet evolution, craft habitats and other items, and battle.
XP: Experience points are a status in the metadata of a Genopet's non-fungible tokens that increases with grinding actions. Once the required number is reached, the Genopet can be upgraded.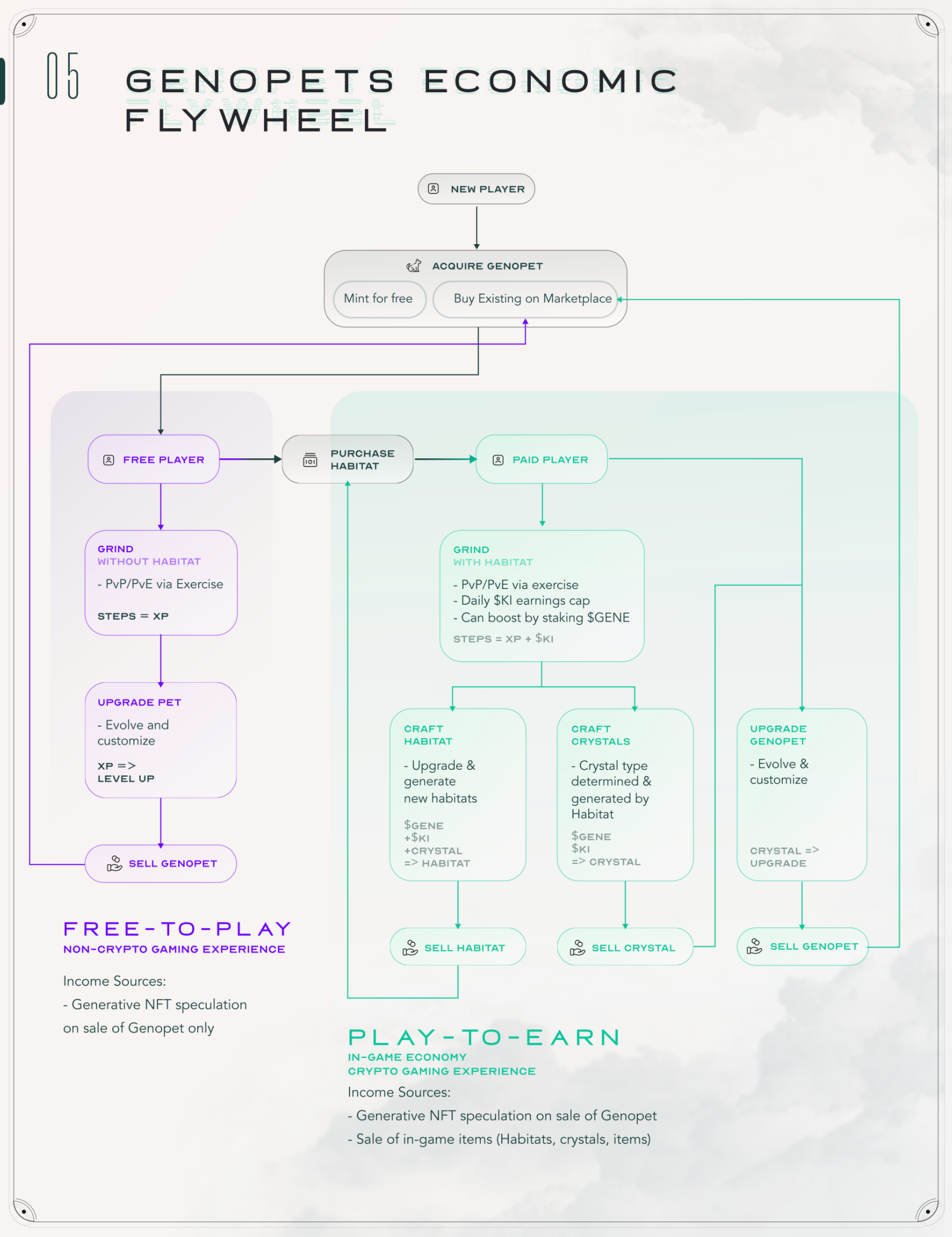 Final Thoughts
It could be the pandemic that has accelerated the fitness sector at lightning speed. Still, the question remains how to turn a luxury or premium offering into a true mass market. At its core, models like Burn to Earn or Move to Earn could be a potential solution to accomplish this. My gut tells me it won't be more than a year before we see something at scale. Who's betting against me?
References
---
The website and the information contained therein are not intended to be a source of advice or credit analysis with respect to the material presented, and the information and/or documents contained on this website do not constitute investment advice.