VOGUE has been covering it extensively; and allow us to describe it this way: "More traditional" brands like Ralph Lauren are in the midst of a determinedly modern makeover. GenZ aficionados on Zepeto, a free social app that lets users craft digital clones to use for chats, conversations and more, are now able to dress up in digital Ralph Lauren gear and hang out in Manhattan. Oh - of course, this isn't new, which means that it isn't all the rage. With that in mind, now let's take a historical perspective first. A follow-up article that takes up a future perspective will follow shortly.
Second Life
It was Giorgio Armani who once said about Second Life I get inspired by pushing boundaries and this is one of those opportunities to experiment and learn.
Second Life designers created a thriving trade in fashion and décor. To infuse their avatars with a sense of style and personality, residents poured into Second Life stores to purchase clothing, hair, avatar skins, and all the accessories for every taste, all the way from casual to counterculture to couture. Designers frequently achieved unique effects by uploading their own textures and manipulating literally hundreds of appearance settings provided in Second Life's creative tools. The creation of virtual goods has turned hobbyists into professionals and provided genuine income for a number of designers. Their stories and more are/were reported with verve in Second Life fashion blogs and magazines. There are numerous feed resources that capture hundreds of fashion blogs run by Second Life residents (extant examples include Fashioncentric).
At the time, Second Life was the virtual world of choice for iconic fashion brands such as Adidas, Calvin Klein, Reebok, Lacoste and Jean Paul Gaultier, high-end lifestyle brands such as Herman Miller, BMW and Mercedes, and companies such as IBM, Intel and Coca Cola. Just as significantly, brands developed by Second Life residents included LeeZu!, Shapes by Kira, TRUTH, AngelRED Couture, Corrupted Innocence, MichaMi, Hucci, 1 Prim Wonders, FAD, Kakaue Kreation, Venerare, Jimmy Chau, Renegade, Paper Couture, FNKY/ Cake, Sidewalk Clothing, Eye Candy, Tesla, BareRose Tokyo, Digit Darkes, Miao, Icing, Popfuzz, Nicky Ree, Stellar, Enkythings, Maitreya, Dutch Touch, Dark Eden, DE Designs, Simone, Dela, Persona, Adam n Eve, LeLutka, LDizzy and the list continues. Second Life allowed many to start a business, build a brand, and start selling designs.
Gucci & Genies (as of 2018)
As of 2018, Italian luxury fashion brand Gucci has been steadily experimenting around augmented reality experiences and future fashion campaigns. In fact, the brand has collaborated with Genies, a company that designs avatars to allow its users to dress their doppelgangers in Gucci garments on the Genies platform. While the aficionados may not be able to afford Gucci in meatspace (real life), at least their avatar can experience a form of luxury.
Genies, can be seamlessly integrated into messaging apps such as Facebook Messenger, WhatsApp and iMessage. The company's coders crunched through hundreds of millions of chats to develop an algorithm that can recognize more than 180 dimensions of mood changes and express human emotions through virtual simulacra.
The startup, in its second round of funding, raised US$ 10 million, bringing its total capital to US$ 25 million, is touting a diversified investment pool spanning leading venture capital firms (e.g. The Humans) and business leaders to celebrity musicians and athletes. (Celebrity backers include Joe Montana, A$AP Rocky, Kyrie Irving, Carmelo and La La Anthony, Shawn Mendes and The Chainsmokers). According to Crunchbase, the current Series B raise has reached as much as US$ 52 million.
Carlings (2018 & 2019)
Carlings, a Norwegian brand, reported sales for 2018 of 120 million euros by investing in 3D design and employee training to manufacture 3D fashion collections. Renowned for its denim lines, Carlings pioneered the selling of virtual 3D fashion collections and products ranging from €10 to €30 a piece. According to Ronny Mikalsen, CEO of Carlings, 3D collections represent the future and are also a sustainable answer to a world that is currently flooded with excessive garment waste.
The Carlings webshop encourages visitors to select an item of clothing, upload a selfie and click on "Dress me". This is when 3D designers "get to work": They perfectly match the garment to the individual on the selfie. The end result is a sartorial look that looks equally as appealing as the real garment.
For 2019, Carlings' "Last Statement T-Shirt" digital fashion concept was created in collaboration with Virtue, an international creative agency that emerged from adolescent media monolith Vice.
The emerging "gateway" concept is aimed at making digital fashion affordable for the everyday consumer. This new "gateway" concept leverages Facebook's open-source Spark AR software - a technology that requires no programming – to enable interactive AR experiences on Instagram.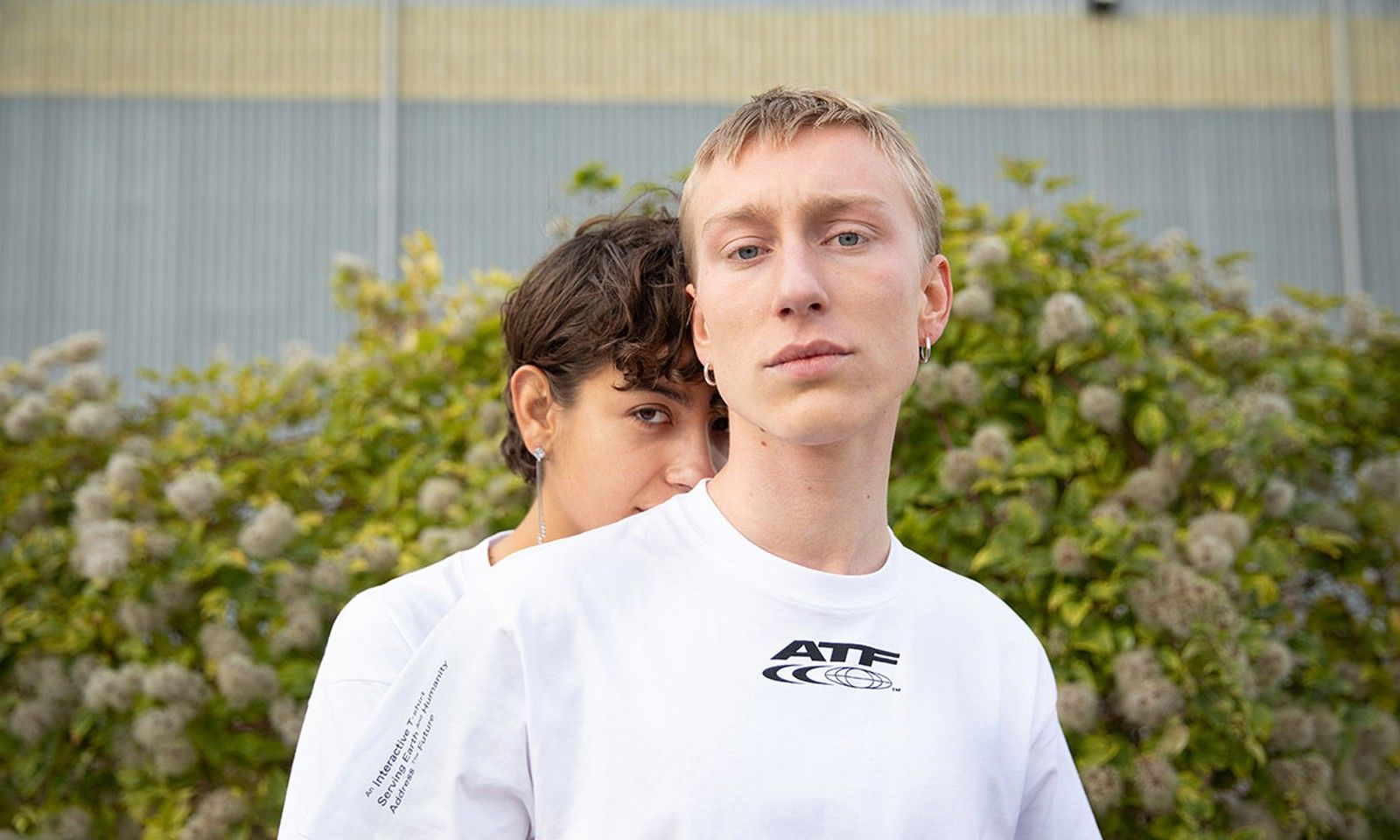 "A statement tee is a way for the voiceless to get their message out there. And today, social media allows people to amplify that a thousand times. But Social Media also makes statement tees even more of a one-off purchase. So we worked on how to extend the digital impact of a single t-shirt." – Roy Mikalsen, CEO of Carlings.
By photographing The Last Statement T-shirt with Instagram filters and sharing it on social media, individuals can digitally change the look of the T-shirt on their phones. Every day, the t-shirt can feature a new statement and design to reinforce a message without ever having to buy another t-shirt.
The T-shirt features a graphic logo that will serve as a tracking point for smartphones. Using the technology behind Instagram's face filters, people can add new designs to the T-shirt via their phones. Instagram's target tracking augmented reality technology, which previously could only track the face, now makes it possible to track other areas as well.
Carlings was the first retailer to use the technology, allowing consumers to choose from a selection of animated statement designs that are constantly updated to reflect daily news and issues. Every day, the T-shirt can feature a new statement and design to spread the message on Instagram - without ever having to buy another physical T-shirt.
Moschino & The Sims (as of 2019)
And of course, such is not the exclusive occurrence - in 2019, Moschino creative director Jeremy Scott has struck a chord with millennials through his latest collection inspired by The Sims.
In a sartorial homage to the life simulation game, Scott designed a ready-to-wear collection that features signature Moschino motifs like teddy bears and retro necklaces that paid tribute to the simulation.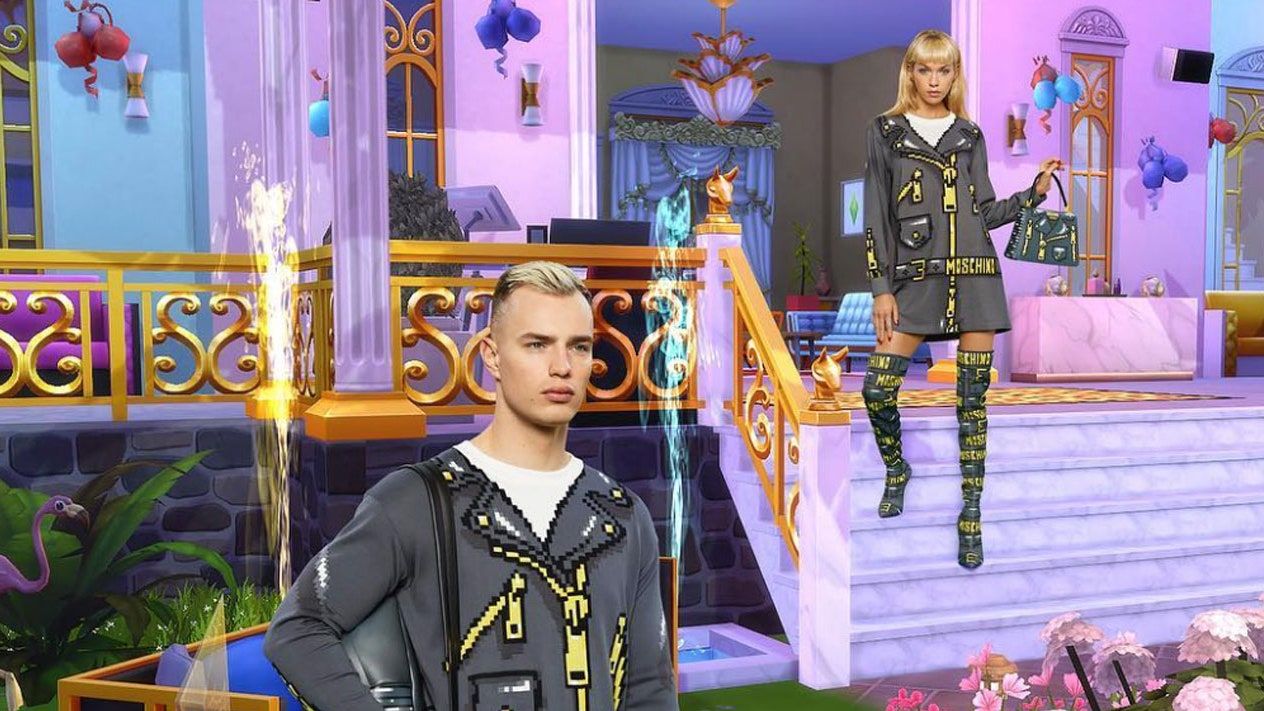 Iridescence (2019)
A one-of-a-kind digital-only couture, Iridescence was originally sculpted by Dapper Labs, The Fabricant, and modeled by Johanna Jaskowska, the creator of the Instagram filter beauty3000. An auction was held for this outfit during Ethereal Summit in NYC during May 2019 at a price of US$ 9,500.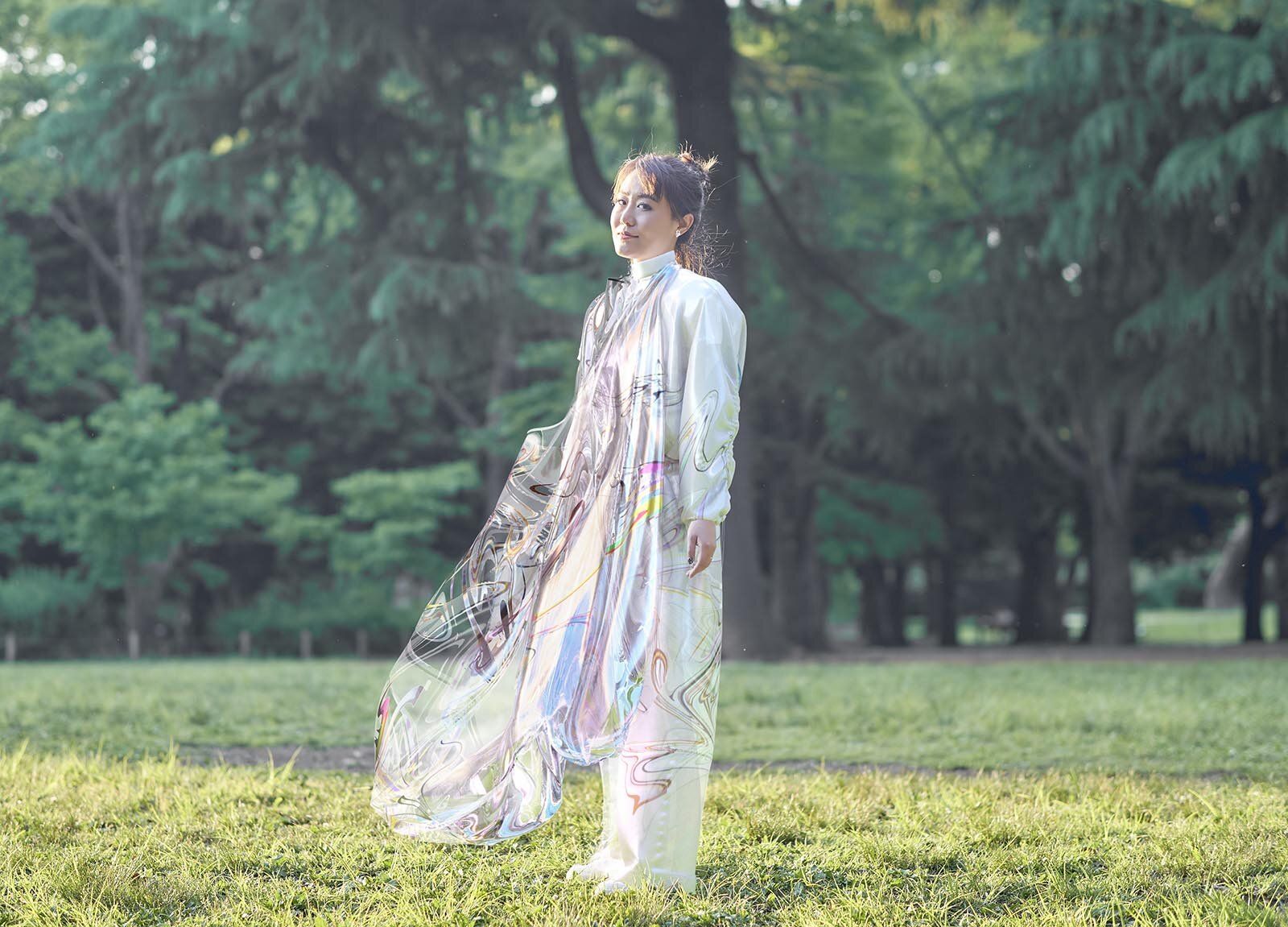 Richard Ma, the chief executive of San Francisco-based security company Quantstamp, spent US$ 9,500 on his wife's dress.
"It's definitely very expensive, but it's also like an investment," Mr. Ma said. As he explained, he and his wife usually do not buy expensive clothes, yet he desired this garment because he believed it had long-term value. "In 10 years, everyone will 'wear' digital fashion. It's a unique memento. It's a sign of the times." Mrs. Ren also shared the picture on her personal Facebook page and via WeChat.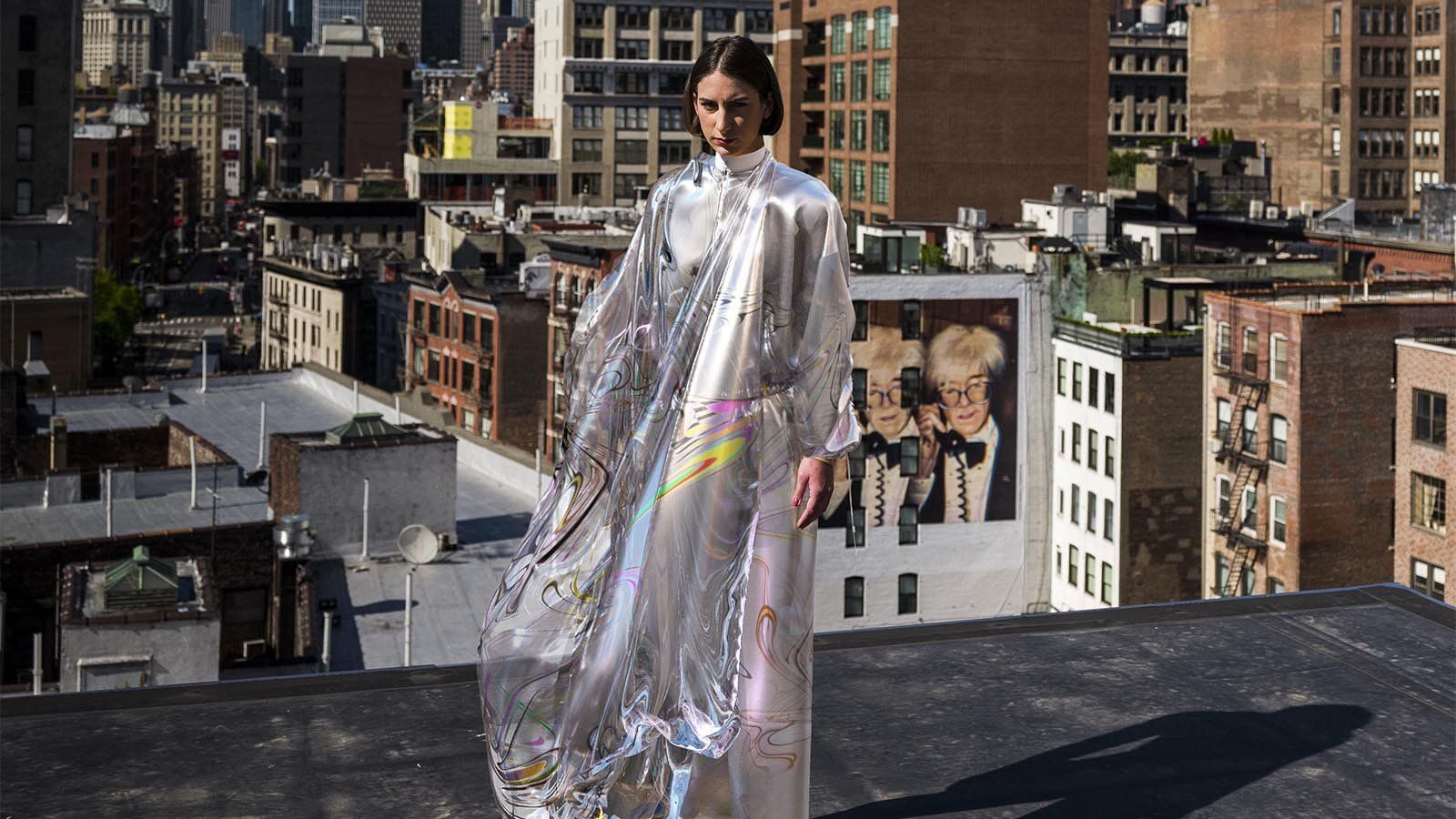 Marc Jacobs & Animal Crossing (as of 2020)
Indeed, one of the most fashionable games of 2020, Animal Crossing: New Horizons from Nintendo is unquestionably the winner of virtual fashion, where fashion designers can present their new collections in the form of downloadable clothing. Since physical fashion shows were not possible this year, Marc Jacobs offered the 11 million players of Animal Crossing free outfits of its Spring-Summer 2020 collection and its Pre-Autumn 2020/21 collection. It was followed by many more collaborations such as Valentino, Maison Margiela, Net-à-Porter with Isabelle Marrant. Furthermore, Animal Crossing allows virtual avatars to be shared on social media. Three Instagram accounts @NookStreetMarket, @CrossingTheRunway and @AnimalCrossingFashionArchive helped popularize outfits by sharing the looks among its thousands of followers, providing these creations with additional visibility.
There are two ways to add custom content. The first way is NookLink, part of Nintendo Switch's online service that resides on a real phone (a Switch Online subscription is required). NookLink lets the user scan QR codes with their phone's camera. As soon as a code is scanned correctly, you can put a "fake phone" into Animal Crossing: New Horizons and go to the custom designs to find the wanted items.
For the second way, it only requires a slight bit of gimmickry (and a Switch Online subscription). As soon as the user unlocked the Able Sisters store, they will find a terminal that leads to the custom designs portal. Here they can enter a code to download a specific item or see what a specific designer has made. The user can also use this portal to upload and share their own creations.
Final Thoughts
The boundaries between physical and digital spheres are gradually blurring in the fashion industry. A continuous proliferation of personal avatars, digital collectibles, and virtual representations in social media, VR spaces, and online games will quickly create a whole new set of industries in socio-creative communities.
Digital fashion is the interconnection of mixed reality and tailoring. Indeed, a futuristic vision in which wearers can inhabit a mixed, alternative environment dominated by the forces of augmented and virtual reality via lenses.
In such a world where clothing is progressively transformed into a "social media art form", digital fashion aspires to blur out the boundaries between the photographic image of a real dress and a virtual dress.
Recommended Literature
---
The website and the information contained therein are not intended to be a source of advice or credit analysis with respect to the material presented, and the information and/or documents contained on this website do not constitute investment advice.