In a previous article, I covered the continuing efforts around physical crypto-cities and the most recent evolutions of cooperative LCAs and DisCOs.
The observation I made is for the concept of crypto-cities to merge even further, regardless of whether it is purely digital along game mechanics and with the addition of economic connections. More or less, it is evident since its inception is that the video game industry and its creators have sought to create worlds that are as compelling as real life.
Again, there are a number of building blocks that shape these digital cities and worlds. As an example...
GameFi - at times known as "play-to-earn" - is the marriage of gaming and blockchain-driven monetization. This allows, for example, players to earn digital assets for their in-game efforts through quests, trading, or other mechanisms. While conventional games have allowed players to collect and trade digital assets over decades, at any point players could lose their investment if the publisher discontinued the game or went out of business. GameFi games, on the other hand, store assets on a distributed network. These operate independently of any single organization, which significantly reduces the risk to the digital assets.
The concept of Mirror Worlds was actually introduced fairly a long time ago (see Virtual Cities: Digital Mirrors into a Recursive World, from December 2007 (PDF) or the original concept from David Gelernter's seminal book "Mirror Worlds or: The Day Software puts the Universe in a Shoebox"). According to this, a mirror world is a representation of the real world in digital form. It attempts to accurately represent the structures of the real world geographically. Mirror worlds provide a utilitarian software model of the real human environment and how it works. Examples that are often mentioned in this context are e.g. Google Earth or Microsoft Virtual Earth.
Among more rare examples is Build The Earth, which was sparked by YouTuber PippenFTS in March 2020 as a collaborative project to recreate the Earth in Minecraft, the video game. Initially, in a YouTube video, PippenFTS called out to potential participants to construct man-made structures on a rudimentary model of the Earth's surface. Through April 2020, a Discord server that was set up to coordinate the project pulled in over a hundred thousand users.
In deed, GameFi is the spark that will finally get the creation of the Metaverse off the ground. All the elements are there, we just need a continued growing economy across different worlds as an incentive. GameFi will equalize and tokenize the value we all place on the time we spend in the games we play. And it is already obvious that this links the real world (meatverse) with the metaverse (e.g. read about it later regarding Wiami).
Wilder World
Wilder World is a metaverse based on Ethereum, Unreal Engine 5, and ZERO (basically a peer-to-peer social network). Their goal is to build what they call a "5D photorealistic metaverse" which integrates VR and AR, a decentralized marketplace (Wilder World Metaverse Market or WWMM for short). Their long-term vision is to create a collaborative, fully decentralized virtual world, along with a liquid NFT market and social platform.
Specifically, ZERO is intended to be an all-in-one platform that goes far beyond a P2P social network to support the creation of DAO-based organizations. With ZERO, a team would be able to set up a DAO "in minutes", coupled with a vertically integrated suite of remote collaboration tools; video conferencing, secure messaging, task boards, etc. Currently, in addition to ZERO Desktop and Web, there is also an iOS version.
ZERO and WILDER WORLD are being built on ZERO by The Cyber Guild and Wilder.Guild; these are said to be two specialized DAO networks focused on building the core blockchain infrastructure and 3D assets to make an ambitious vision like Wilder World even possible. Together, this is expected to bring 70 full-time creators working in 24 DAOs in 15 countries to work on the vision with another 1,000+ artists and programmers in the onboarding process. (this is a statement from Wilder World and not validated by me).
From an off-chain sense, Spartan group led an initial US$ 3 million round with participation from blockchain investors including DCG, Animoca Brands, Everyrealm (ex-Republic Realm), and Signum Capital.
Wilder Wheels
Wilder World is shaping an economy around its world that allows its participants to earn money around different products. Since Player vs Player (PvP) and Play to Earn (P2E) will play a key part in Wilder World, the first microgame is Wilder Wheels racing which will leverage fully drivable NFTs.
One of Wilder Wheels' influences could be games such as Grand Theft Auto or GTA; the crucial difference is that the game works with real stakes.
Wilder.Guild
The Wilder.Guild will be the first DAO within Wilder World to specialize in artists. Built for and by artists, the Guild curates 3D artists to collaborate on the stories, characters, and environments that will ultimately make up the Metaverse.
Wiami
Wiami is to become the premier city in Wilder World. As per the initiative, lidar data will be used to create a 1:1 emulation of Miami, located in a nearby alternate dimension. Regardless, the look and feel of the city will be more futuristic, reminiscent of Miami in the 80s, with a CyberPunk flair and a touch of fantasy. At the moment, residential houses can be bought as NFT on their own platform.
Finally, the ambitious initiative has partnered with a variety of crypto companies, including Animoca Brands' REVV Motorsport, BossLogicUniverse (BLU), CoinMarketCap, Huxley, Illuvium, Immutable X, Knights of Degen, Ledger, Players Only, Polkastarter Gaming Guild, Sneaky Vampire Syndicate, The Doge Pound, VaynerNFT, Yield Guild Games, Zed Run. (Source: 20th November 2021, HackerNoon)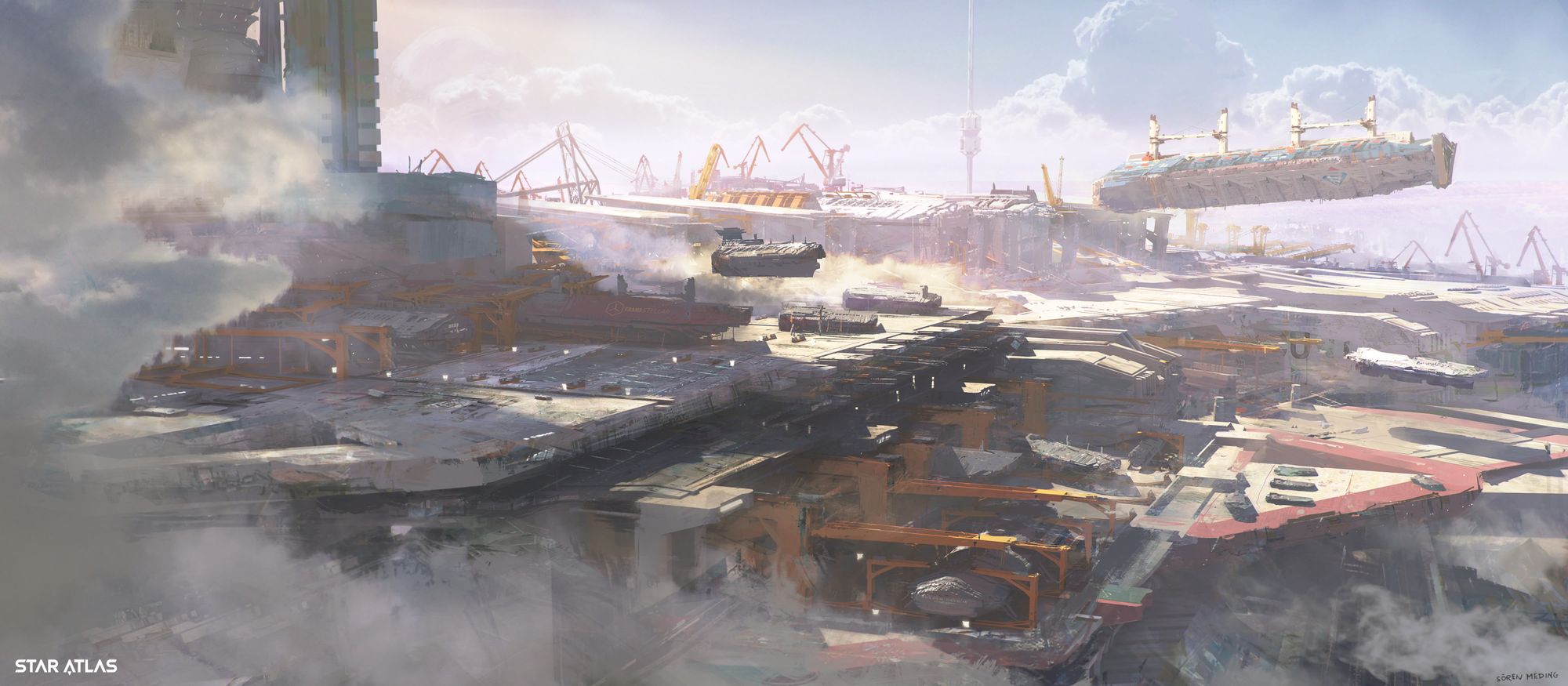 Star Atlas
There's an elephant in the room - Star Atlas reminds me of a meld of Star Citizen and EVE Online.
Nevertheless, the details are different, as the game is a mix of traditional sci-fi core gameplay and blockchain mechanics. For instance, from a blockchain perspective, the outcome is a serverless MMOG built on the Solana blockchain. The latter has the advantage of an extremely high throughput, allowing 50,000 transactions per second, which allows interactions between assets in the game to be recorded in real time. While on the other hand, the core game uses Nanite graphics (PDF) through the use of Unreal Engine 5, which manages billions of polygons in real time.
Marketplace
Within its first phase there is a "Galactic Asset Offering" (GAO) which sells assets via the Star Atlas Marketplace. Ethereum based assets transfer to Solana via Wormhole, the Solana-Ethereum-brige.
In its second phase, Star Atlas introduced a browser-based mini-game as an MVP in December 2021. This minigame, which is called SCORE, enables users to launch their spaceships onto missions in the form of non-fungible tokens (NFT), for which they receive rewards in Atlas (ATLAS).
The premiere release is a part of Solana's ambitions alongside MMA (Metaverse Mining Alliance) Gaming. It involves a so-called "super-guild" that maintains pools of players and assets to generate revenue in play-to-earn worlds, cf. MMA Gaming Whitepaper (PDF). Given a highly decentralized nature of this, this will all be chain-independent and not limited to Solana GameFi platforms.
Which also opens up opportunities to utilize these pools for funding, including seed investments in new Metaverse games, the creation of optmization tools, and so on. Backed by a team of over 1,000 scholars earning a stable income from MMA Gaming's investments in GameFi platforms and $15M AUM.
And ultimately - a successful business model that generates an APR of over 60% for its participants at present. (both Axie Infinity and Star Atlas are top revenue creators for MMA Gaming at the moment)
The third phase will focus on the sale of shipyard modules. The fourth phase will deal with pre-sales into beta, and finally the fifth phase will focus on ongoing sales.
All net proceeds from the sale of NFT assets are contributed to an ATLAS:USDC AMM pool designated as a Universal LP. Such funds are available to all players seeking to exchange in-game generated currency for alternative digital assets.
Atlas Co. will be the purchaser of last resort in this pool, willing to buy ALL remaining ATLAS units at a price equivalent to the USDT deposited into the pool divided by the total number of ATLAS units in circulation.
Token
Star Atlas has a dual token economy, whereby the two crypto assets are ATLAS and POLIS. Their first public token sale occurred in late August 2021 through an Initial Exchange Offering (IEO) on FTX and an Initial DEX Offering (IDO) on Raydium and ApolloX.
Where POLIS is the game's governance token, akin to AXS within Axie Infitnity, ATLAS serves as the platform's native token, acting as a trading currency within the game.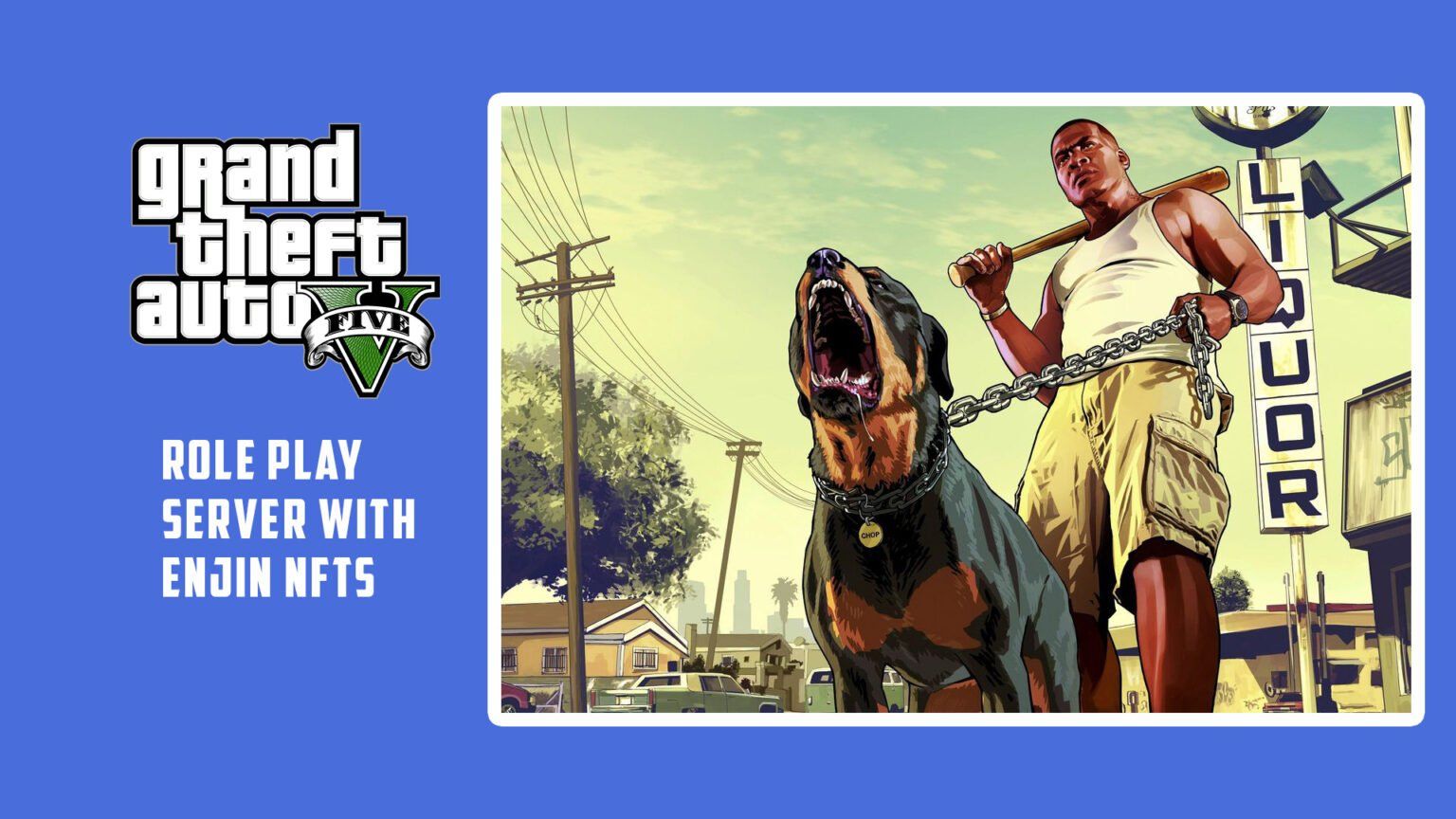 MyMetaverse
About 2.5 years ago, I first wrote about Enjin and their continuing advocacy for the development of the ERC-1155 token standard. Since then, Enjin has already created over US$ 1.16 billion in assets.
Simon Kertonegoro was formerly with the Enjin team and later founded MyMeta to bring mainstream gamers into Enjin's Web3 ecosystem. MyMetaverse is actually a collection of very different things, such as a metaverse explorer, an app store, and a game library for NFT and play-to-earn experiences. MyMetaverse also develops its own games, including MyMeta MMO, MyMeta Minecraft, MyMeta GTA and MyMeta Arcade.
MyMeta Meta City Minecraft is the first large-scale project in the MyMetaverse ecosystem that is based on Minecraft. In fact, it is the world's first "free-to-earn" Metaverse real estate. An economy created by the players is featured throughout the game experience. Players earn by playing in the metaverse, for instance, by selling NFT characters and NFT art exhibitions.
By far the most significant difference from "owning" real estate in Minecraft as an NFT will be the ability to "obtain tokenized property and trade it on decentralized marketplaces."
The tokens are made dynamic, allowing Minecraft players to customize the names of their NFT properties. These custom names will be transferred out of the game and onto the tokens so they can be verified in ERC-1155 blockchain wallets. The valuation of materials placed on their NFT property is also tracked on the tokens.
At the moment there are 70 Meta City Real Estate NFTs that players can achieve on the Meta City server. To earn them, players must save up "Capital Coins", which are a central currency in the game, and do things that the game requires one to do, such as eliminating mobs of enemies.
Creating their own mini-games in Minecraft and charging entry fees for those mini-games is another way to gain Capital Coins. To incentivize this, developers can reward players who successfully complete their mini-games with blockchain assets from any associated product.
By virtue of Kertonegoro's background, MyMetaverse already had close ties to Enjin from the very beginning, and thus it is not entirely unexpected that MyMetaverse is incorporating its two current games and all future games into Efinity.
Efinity is a parachain designed by Enjin on the Polkadot blockchain. A parachain is its own blockchain, but one that uses its relay chain (Polkadot) for transaction security and accuracy. Efinity shall have extremely low transaction fees, and in-house testing of Efinity by the development team allowed it to mint 120,000,000 NFTs per 6-second block.
Final Thoughts
The fusion of DeFi and video games has spawned a new era of virtual worlds that reward players financially, by replacing the abstract thrill of gameplay with an intrinsic reward based on their time and effort. Under this system, each item acquired or obtained in the game can have a unique NFT that can be used for crypto transactions, turning game items into tradable cash or other real-world assets. To put it more simply: GameFi's concept is based on playing to earn money.
References
---
The website and the information contained therein are not intended to be a source of advice or credit analysis with respect to the material presented, and the information and/or documents contained on this website do not constitute investment advice.