According to _garbrielShapir0, the "difficult legal problems" with DAOs are not in establishing companies, but:
Convincing states to grant limited liability to anonymous members of stateless unincorporated DAOs
Establishing standards to defend the contract code
Taxation
Carving out DAO shares from securities law
Perhaps DAOs should therefore be bound by a legal order (like an LLC) to limit liability, because if a legal entity is not clearly specified and only does business with others (as would be the case with an unbound DAO), then the default treatment legally is for members to act in an association. In the U.S., the members of an association must legally share the risk equally, and those members are liable for everything.
In general, the use of LLCs (or similar) as transaction objects is for risk management purposes. The use of LLCs as transaction objects (entities) for risk management is obviously nothing new. In the financial industry, LLCs and SPVs have been used for all sorts of transactional purposes for decades - even if the average person doesn't necessarily think of the financial industry, with its jargon and implementations, when they start a business. The fact is that it used to take an army of lawyers and millions of dollars to set up transactional businesses; today you can do it with just a few dollars.
Delaware LLC
The current standard rules of Delaware corporate law define an LLC manager - or whether all LLC members are managing members, which is not ideal for forming an LAO. (see DAOs & LAOs by Axel Quack).
Comparison between Delaware, LLC and Ethereum, DAO.
As a simple comparison between the two different approaches.
|   | Delaware, LLC | Ethereum, DAO |
| --- | --- | --- |
| Structure | Legal Shares | Token Shares |
| Medium | Analog | Digital |
| Database | Registered to a Nation State | Registered to the Internet |
| Access Control | Nation State Identity (SSN) | Private Key |
| Requirements | Citizenship or US status | Internet connection |
| Financial System | Traditional Finance | Decentralized Finance |
| Bank Account | "Traditional Bank" | Ethereum Address |
| Registration Fees | $90 one time + $300 yearly | one time gas fee |
| credit | Robut credit system | Currently not available |
| Protocol Taxes | State and Federal Taxes (20 to 40% of profits) | None |
| Jurisdiction | United States | Global |
| System Costs | Total U.S. Government (tens of trillions annually) | Ethereum Protocol (single-digit billions annually) |
Source: Bankless Newsletter
Wyoming LLC
Wyoming was the first state to allow LLCs in 1977; today, over two-thirds of all newly formed businesses are LLCs.
In doing so, Wyoming granted individuals and businesses greater opportunities to express their personal autonomy by engaging in economic and social interactions based primarily on the concept of "freedom of contract." The state also allows for financial and business privacy, leaving individuals and businesses to manage their own affairs.
Wyoming has also become the "Delaware of digital asset law" by enacting meaningful regulations on inter alia.
Wyoming is the second state to create a financial technology (FinTech) sandbox with the "Financial Technology Sandbox Act" (Sandbox Act). (Arizona was the first state to implement a FinTech Sandbox.)
Recognition of direct ownership rights for individual holders of digital assets of all types (virtual currencies, digital securities, and utility tokens), applying the rules of commercial law to virtual currencies.
Authorization of the first true "qualified custodian (PDF)" for digital assets, including virtual currencies and digital (tokenized) securities.
In addition to the regulations already mentioned, the state has passed three important laws in recent years as a foundation for the future of digital businesses.
2018 HB-0101 - Authorized digital corporate records, shareholders represented by key.
2019 HB-0105 - Authorized corporate shares recorded and settled on blockchain.
2019 HB-070 - Authorizes and funds the Wyoming Secretary of State to develop and implement a blockchain-based filing system to support a "corporate birth certificate" and "corporate proof of good standing."
On March 9, 2021, there was tremendous progress - as DAOs are already structured to be supported by LLCs, with the prior hope that they comply with U.S. state and federal law - Wyoming bill SF0038 - Decentralized Autonomous Organizations. recognized DAOs as corporations approved by the Senate committee.
The bill now goes to the Wyoming House of Representatives for a vote, where it will become law if it passes unamended. This would make the state the first U.S. state to pass such legislation. This legislation would allow DAOs to set up shop in Wyoming, giving cryptocurrency projects more legitimacy and further strengthening the state's reputation as a blockchain-friendly jurisdiction for new businesses.
Series LLC
A Series LLC is a unique form of limited liability company ("LLC") in which the Articles of Organization expressly permit unlimited division of membership interests, assets and operations into independent series. Each series operates as a separate entity with its own name, bank account and separate books and records. A series LLC may have different members and directors in each series. The rights and responsibilities of these members and managers vary from series to series. Each Series may enter into contracts, sue or be sued, and hold title to real and personal property.
The most important feature of a Series LLC is the liability protection available to each Series. The assets of a Series are protected from the liability exposure of other Series within the same Series LLC. The concept of a Series LLC is similar to that of a corporation with multiple subsidiaries. However, the Series LLC concept is designed to spread risk within separate entities without the cost of creating new entities.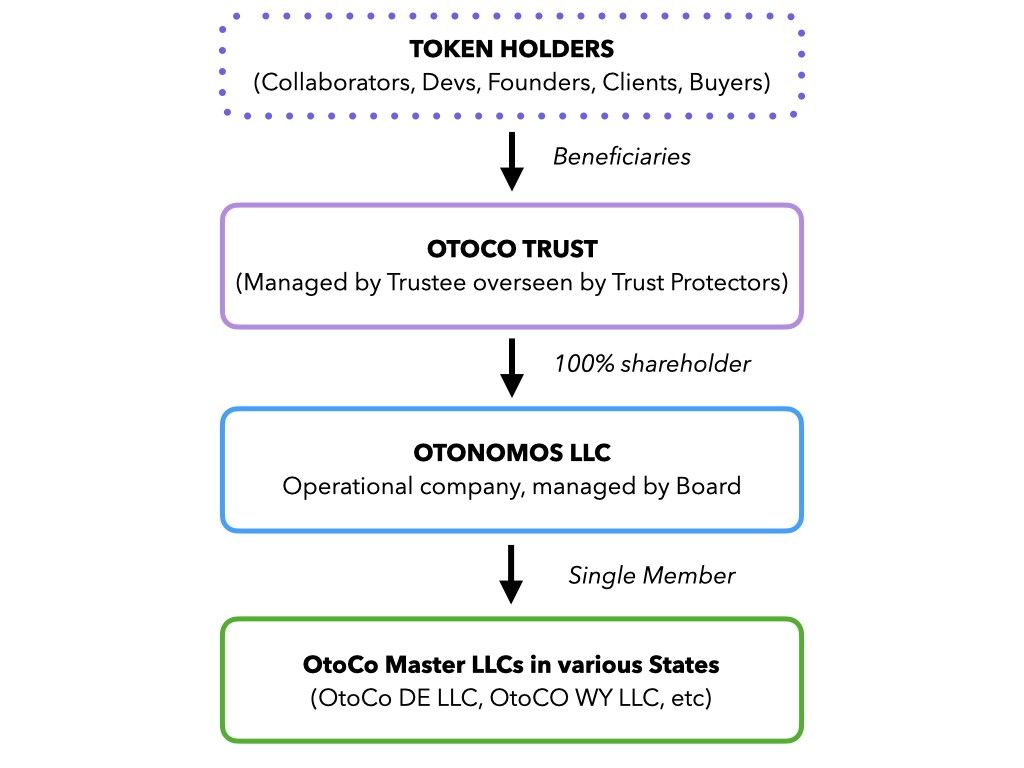 Otoco
Otoco is a subsidiary of the founding company Otonomos. The company recently launched a product that can instantly generate an ERC-20 token tied to an on-chain Delaware or Wyoming "Series LLC".
As described, a "Series LLC" can have thousands of "children" or "series." Each "parent" enters into a legal agreement with the owner of the "child" so that the "child" is completely controlled by the owner of the ERC-20 token.
Their offering is fast (within seconds), as it does not require the creation of a new company with the state. The process steps require in detail:
Verification of the LLC name (availability in Wyoming or Delaware)
Connection to the wallet (Metamask or WalletConnect)
Activation (sign smart contract)
To date (April 1, 2021), the Company has signed 194 LLCs by sending 39 DAIs to the OtoCo Company Assembly Smart Contract.
Ricardian
Ricardian is an NFT-Minter smart contract with embedded Delaware Series LLC Agreement functions and IPFS-hosted documents, managed by LexDAO (a "Decentralized Legal Engineering Guild") as a public good on Ethereum. The name and concept of Ricardian LLC is inspired by "Ricardian contracts," i.e., agreements that are recorded with legal and code-based effectiveness.
A similar concept of open, Series LLC smart contract formation is being explored by the Otoco suite. With respect to differences: Ricardian LLC is agnostic to how users might deploy related smart contracts, aiming to be cheaper to form a Series LLC through NFT minting. For example, an Aragon or Moloch DAO membership might place this NFT into their vault or voting smart contract to signify operating as a Ricardian LLC Series.
Also...
To provide a gas-efficient, obvious and agnostic way to mark LLC accounts, the Master LLC Agreement is maintained in a "non-fungible" token (NFT) minter. For compliance and practical purposes (such as lost private keys), a DAO can incubate and govern this NFT ledger and related legal framework.
Source: Ricardian Gitbook
Some of the registered NFT can already be found on OpenSea or Rarible.
Final Thoughts
The above changes would be consistent with existing common law or other initiatives in Wyoming and would limit the time and cost of forming a DAO with an underlying LLC structure.
This could also significantly reduce costs or even eliminate the need for a customized operating agreement, depending on the scope of the legislation.
On the other hand, while the recently enacted legislation is a major step forward, there is ongoing debate as to whether the overall approach is positive or negative.
However, i.a. Gabriel Schapiro called Wyoming's LAO law "badly drafted prescriptivist technophilic legislation" whilst Preston Byrne suspects the bill was "tailor-made to fit one business' legally weird offering: the "LAO" product built by ConsenSys' OpenLaw "spoke.""
Source: The Otonomist - March 2021 Wyoming Special; please also subscribe to their fantastic newsletter.
Recommended Literature
---
The website and the information contained therein are not intended to be a source of advice or credit analysis with respect to the material presented, and the information and/or documents contained on this website do not constitute investment advice.